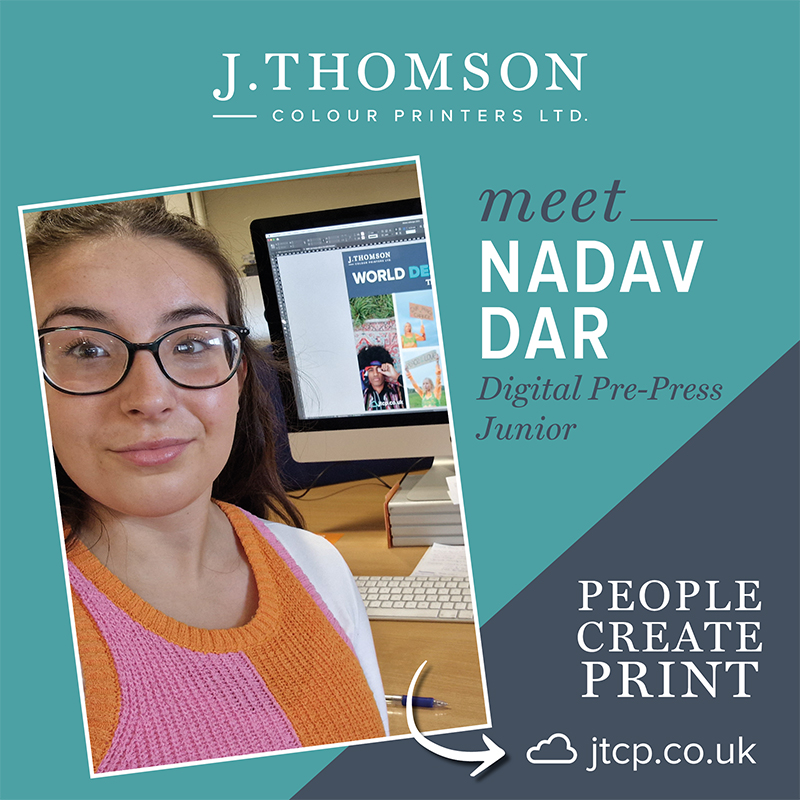 Nadav Dar is studying Graphic Design at college and working part-time as our Digital Pre-Press Junior.
 Read her Q&A's here.
What are you studying at college?
I am studying a HND in Graphic Design at City of Glasgow College.
Do you plan to do a further qualification after HND?
Yes, I plan to study the Design Ba(hons) course.
Have you always been interested in design?
I originally wanted to do illustration, but the Graphic Design course looked more appealing, and I thought that I could develop a wider range of skills.
What area of design do you enjoy best?
I love experimenting with different media, I especially took a liking for screen-printing. I also enjoy working with typography, having done several type based projects I tend to lean towards creating interesting designs that are fun to look at.
How does your course compare to what you are learning at J Thomson?
Very different, studying covers different aspects of all that is available in graphic design but only scratches the surface at what is done in print. Print is a very new and exciting aspect of the design industry.
What are you hoping to learn from your time in Digital Pre-Press?
I want to expand my knowledge of the company and what it provides, learn new skills both digitally and practically and find an area within print that I excel at or just enjoy.