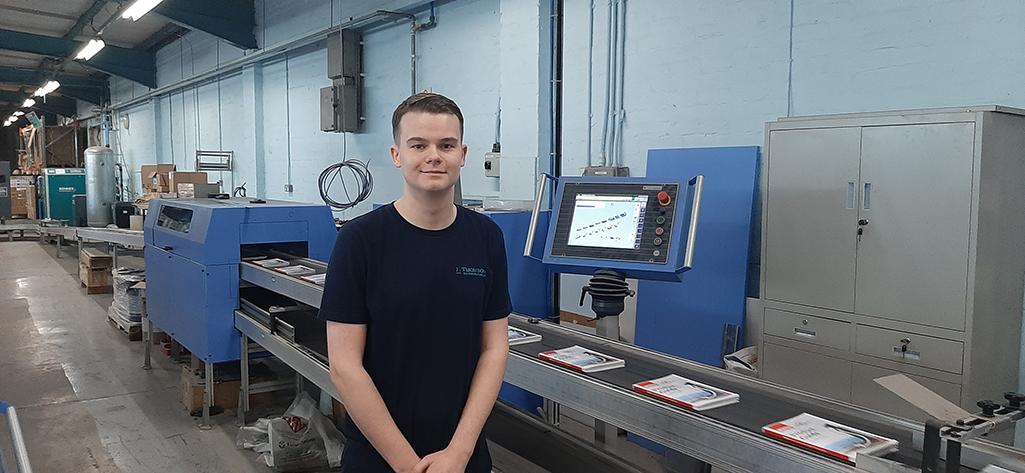 We round  off Scottish Apprenticeship Week with Billy Coulston or "Wee Billy" as he is nicknamed. Billy recently started an apprenticeship in Print Finishing.

1. What does your typical day/responsibilities involve
?
To do what I am told, finish jobs as soon as possible and help others when I can
.
2. What made you interested in the Apprenticeship at J Thomson's?
I'd been working here for a year and really enjoyed working with paper and books. I was going to ask my manager about an apprenticeship and when I did, he said "that's weird I was going to ask you if you wanted to start one".
3. Did you always want to work in print, if not what else did you consider?
I hadn't thought about print at all, but I had considered landscape gardening.
4. What is the best part of your job?
The people that I work with.
5. Where do you see yourself in 5 years?
In J Thomson Colour Printers as a machine operator!
6. Are there any other areas in J Thomson that you have worked?
Yes, I worked in the Digital department where my Uncle Jeff works.
7. What qualification will you gain when apprenticeshp is complete/when is it complete?
I will qualify in Print Finishing and become a machine operator for the binder, hopefully as soon as I can.
8. What is the most exciting project you have printed so far?
I liked when we printed the Paddington books because I used to watch that movie all the time when I was young, it was very nostalgic.
9. Would you recommend apprenticeshps, why?
Yes, I would recommend apprenticeships because it can give you lots of opportunities and life skills as well as a good career.
10. You get the chance to print your own autobiography, what is the title?
"Wake. Print. Sleep. Repeat"
11. When you are not in work, what do you like doing in spare time?
I mostly spend time going out with my girlfriend and my friends.