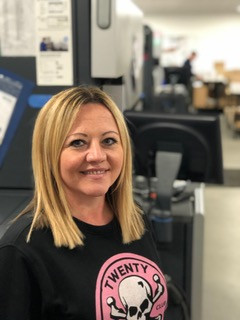 From trainee estimator, to manager of Scotland's most technologically-advanced digital department, Elizabeth Clinton's story in the print industry is one of hard work, determination and, ultimately, success.
We talked to Elizabeth to find out more about her story in the print industry, career at J Thomson and her love for music and the people she works with…
"I started working at J Thomson's in 2005, believe it or not, which is 14 years in June. Although it doesn't feel like that – time has flown by!
I was working in a print finishing house, when one of the folding operators mentioned to me there is a job going in J Thomson's. I was in a managers role at the time, but it was an estimating job at J Thomson. But I thought, 'I'm going for that'. At the time, we had already done some work with J Thomson so I knew they were a good company and everyone I'd met from the company was really nice and friendly.
Once I got the job, I never looked back!
At the point I joined, there were only four estimators. Kevin Creechan had started as Managing Director around the same time as me, and changed the full structure of the business. Previously there were separate estimating and customer service departments, and he changed everything so that we were paired up with a salesperson. I was paired up with Marie Gilmour.
It was really good because you weren't just estimating, you were booking in jobs and ordering out-work. Doing a bit of everything really, which was a lot better than just estimating all day!"
How did you start in the print industry?
"I kind of just fell into it. I worked since I was about 14. I always had summer jobs, weekend jobs or whatever. I'd actually just been paid off by Boots! I was 17, I was still in school, and someone said to me that there was a job going in Pettigrews, a printing company that was close to where I lived. It was a production assistant, the role I started in. It was good — I really enjoyed it.
It's been 26 years now. But it's quite frightening when you actually have to count it all up!
So I was there for 5 years, trained to be an estimator, and by the time I'd left Pettigrews, I was the senior estimator.
Now, after working my way up at J Thomson, I manage the digital department. I love it, it's great!"
How long have you been in that role?
"Well, we opened the digital department almost 11 years ago now. At the start, there were only four of us and now there is 17, so it's just grown and grown.
I remember when it started and they were advertising internally for someone to take over the department. I jumped at the chance and got it!"
What are the main roles of your position now?
"Well, I oversee the whole department and also look after some sales guys as well as Nick – J Thomson Chairman — and his clients. So it's really not just managing the department, but I'm also heavily involved in the customer service side of the company as well.
The guy that used to manage the department, he didn't really deal too much with accounts, but I've always dealt with accounts since I've been here and they've just sort of followed on. It's happened quite naturally and I enjoy that blend of roles and departments at J Thomson – it's good, a bit of variety."
How do you see the digital department at J Thomson comparing to others in the industry?
"We've got the best presses, the HP Indigos — a 7600 and a 7800 — and, in my opinion, they are by far the best out there. We've looked at lots of different digital printers and nothing compares to that. It's as good as litho, so the quality of what we put out is fantastic.
That's really what sets us apart from a lot of other companies and it makes the customer service role a lot easier when you have that sort of quality output."
How have you seen the development and investment in the digital department over the years?
"We invest all the time. As soon as there is a new machine out, we look at it. I think, maybe not this year but next year, we'll be upgrading again.
It's a rare thing to find a company constantly looking to upgrade and become better.
That's the great thing at Thomson's, they're always investing in the latest processes and equipment to produce the best possible print.
It's throughout the entire production line as well. As we speak, they're installing the best finishing lines available on the market!"
We've heard glowing reviews from both Mark & Rikki in the previous 'People Create Print' blog posts about the people they work with and the difference that makes to everyday life at the company, how do you feel the people you work with at J Thomson impact your job?
"I think that's the best thing about Thomson's: the people. Certainly, my team, they're brilliant!
Kevin always says I'm really fussy and very hard to please when it comes to interviewing, but it pays off because we've got the best of the best when it comes to our team.
Right from the customer service through to the despatch guys, they're great. It's so fast-paced, but everyone is brilliant at it!
You can be putting out up to 100 jobs a day, so you need to be on the ball, but I've got a really good team of people. That's how the department has grown so much, it's down to them really. "
Outside of J Thomson, how do you spend your time?
"Do I tell the truth here?!
I don't do cocktails, I don't do ladies lunches or anything like that! If I lie then my husband will be laughing saying why didn't you tell them you stick the snooker on at the weekend?
To be honest, I go to a lot of gigs. I've got one on tonight, one on Friday and I'm constantly looking for tickets for the next ones!"
What sort of music do you like?
"Everything, from Elvis to the Stone Roses! I'm about to go see some American Blues bands on Friday actually — I love gigs!
If you weren't working at J Thomson, what do you think you'd be doing?
"I think I'd be Scotland's version of Jo Whiley! Travelling around meeting and interviewing all the bands. Probably not, but that'd be my ideal job!"
Putting aside Elizabeth's dream of becoming Jo Whiley, she has carved a fantastic career out for herself in print industry thus far, but not resting on her – admitted well-desired – laurels, there is only one thing that occupies Elizabeth's thoughts for the future of her career at J Thomson:
"From my point of view, I'm going to continue to make sure my team are looked after and that my department and the company continues to grow and grow."